GO48 CONCLUDES
We thank all the Panelists, Jury members, Participants and Sponsorers for their time and support.
We are pleased to announce that the results declaration is already in process. You can view the respective results in the RESULTS menu.
The results are also being shared on all social handles of GO48 Challenge and Chandigarh Design School.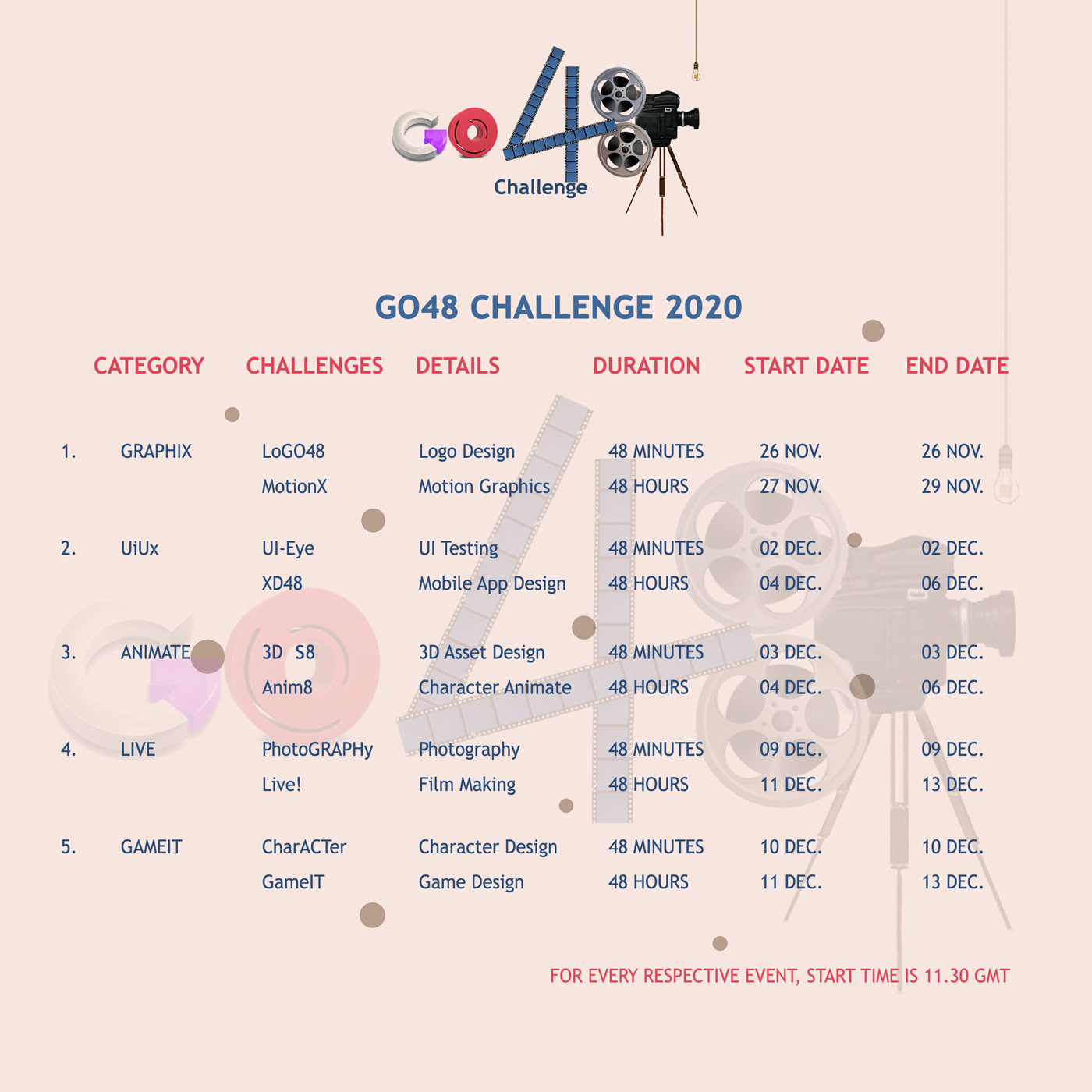 GO48 CHALLENGE
GO48 Challenge is an international competition that celebrates the creative skills of the global community comprising students, artists, designers, faculty, professionals and industry experts. 
The contest would have 5 Exciting Competitions, each comprising of 2 Challenges, all bound by the common thread 48.
That means, you submit your art/design solution, either in 48 minutes or 48 hours.
To this effect, you can work on design solutions in the following 10 Challenges
Go48 Graphix  :   Visual Communication Design           :   LoGO48 and MotionX.
Go48 Anim8     :   2d & 3d Animation                               :   3D As8 and Anim8.
Go48 Live          :   Filmmaking                                            :   Photography and Live!
Go48 GameIT  :   Game Design                                          :   CharACTer and Game IT.
Go48 UI/UX      :   User Interaction / User Experience Design  :   UI Eye and XD48.
Participant can choose to take up the challenge to participate in more than one of the GO48 Challenges.
OVERVIEW
GO48 is an International Design Challenge. 
It is an exciting challenge, currently in its 9th Year & was initiated in 2012. The format has exciting competitions in Graphics, Animation, Film Making, Gaming & UI/UX to be finished in 48 minutes or 48 hours.
Animation Film Festival like International Animation Day which is celebrated annually, by staying true to the spirit and upholding one of its motto of blending art and technology, making available invaluable knowledge and information, ASIFA India throughout the year, arranges several free workshops, namely the CG-Meetup. Regularly conducted since January 2006, one of the main aspects of these Meetups is creating a free, open to all platform for interaction and networking which has seen the active participation and support of the industry.
REGISTRATION
Register for exciting opportunities for discovering and polishing your skills and be a global winner
To all students, fresh graduates, and young designers, registration will help us connect with you with regard to sending you updates about Go48 challenge and also so that you can clarify your doubts if any and to guide you at different stages of the challenge.
To faculty members/design mentors, we request that you inform, motivate and guide your students to participate and give their best of their abilities.
Accordingly, we also urge the entire design fraternity such as faculty members, professionals, students, fresh graduates, and young designers to go ahead and register so that you get updates and acknowledgements.
Let us build connections and form the creative networks for future endeavours.
Play to Win! Play Solo or form a team and take part in the league! Challenge yourself to be the best globally.
GO48 CHALLENGE
PARTICIPATION
Go48 Challenge is open to all, students, graduates, and young designers from around the world. You may work as individuals or work as collaborative groups. You are encouraged to follow a design process in solving the problem, as well as seek guidance from faculty members and professionals.
Go48 Challenge is an online competition. It is open to all participants from around the world.
Fill the Online Registration Form
Select one or more Competition Category
Register as individual or group participants ( maximum # 5 )
Brief will be explained in 10 minutes.
Understand the Brief, Theme, Instructions & the deadlines of either 48 minutes or 48 hours
Participate with passion, sincerity and follow the design process.
Submit your entry before or on the deadline.
For Submission, additional 10 minutes will be allowed to 48 minutes & 30 minutes will be given to 48 hours
AWARDS
The winning entries will be felicitated as below:
The Winners of each GO48 Challenge in 48 hours category will get the

HUION Pen Tablet 640P

.

Each of the winning participants will be given the certificate of winning the '

International Go-48 Challenge Merit Award

' along with a

digital trophy

for 'Winning Entry'. 

The best global entry will also receive a copy of the digital publication and

Amazon Shopping Coupon

worth Rs 500/- (the coupon amount and sponsors will vary for different countries).

Each of the winning Individuals and teams for all design categories will be published in

international platforms

: (a) published online, (b) recognised by ASIFA and (c) displayed as winners on Associating Partners websites giving full credits to you, your team and your institution.

The winning entries will also be made available for the world to look at the creative talent you possess. We will promote your work through the online

global media publications

.
All participating entries will be facilitated :
All participants will be awarded Participation Certificates & entitled to free updates and subscription to the series of webinars, workshops and scholarships offers throughout the year. These workshops and the webinar will be conducted by design experts from industry as well as academia from the world's renowned art & design fraternity.